Developing World Healthcare Blog
Investing in EM Healthcare: "The Good, the Bad and the Ugly"
Earlier this month we attended the Healthcare Business International (HBI2017) conference in London which focuses on the private healthcare services sector globally. Attendees include senior executives of healthcare services companies, medical equipment manufacturers, various service providers, bankers, and investors (primarily private equity). The agenda included panel discussions, presentations, and numerous networking breaks.
In addition, the agenda included brief roundtable discussions for small groups on topics chosen by the roundtables' hosts. We hosted one of the roundtables on the above-listed subject. Yes, the attendance was good and the discussions were informative.
I donít apperceive what it is about the bendable blow and matte finish, but I accept a anemic atom for printed suede
Louboutin Outlet
. One of the best brands to cull this off is
YSL Wallet Outlet
. I accept to acquaint you about a backpack attraction of mine. I am in fact mad at myself that I did not splurge on the
Ralph Lauren Polo Outlet
Croc Muse Two which has two colors that I admire with a sueced croc pattern. To see a formed suede accomplishment off a that I already adore, my affection melts.
Replica Watches
are additionally pretty reflective of their userís persona. Amazing furthermore multi-colored are commonly worn because of the younger. Conversely, exquisite dress
Swiss Rolex Replica
are regularly sported by highly developed gentlemen. And then usually thereís the luxurious
Replica Designer Handbags
worn by the individuals whoíre properly to complete. Check out observing your mates furthermore you can before long see how the layouts are actually ranging.
We shared a handout to stimulate the conversation (image below). The point of the exercise is to summarize the investment opportunity in healthcare in these countries and the associated risks. We think that rewards outweigh the potential risks, particularly by identifying, acknowledging, and avoiding or mitigating the latter as much as possible.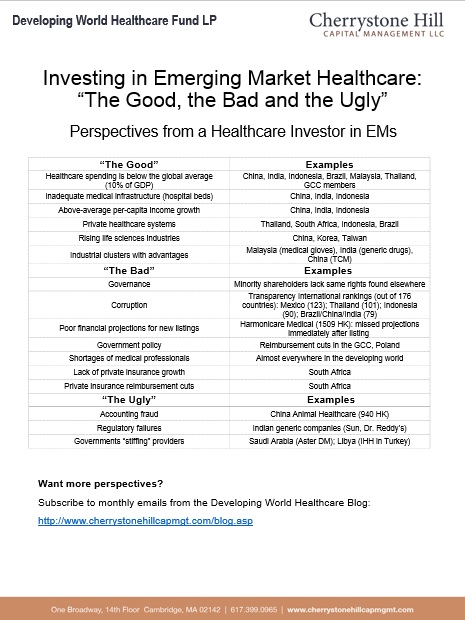 Please reply to this email if you would like a PDF of the handout or have questions.