Developing World Healthcare Blog
Why People in the Klang Valley Love This Picture
Why People in the Klang Valley Love This Picture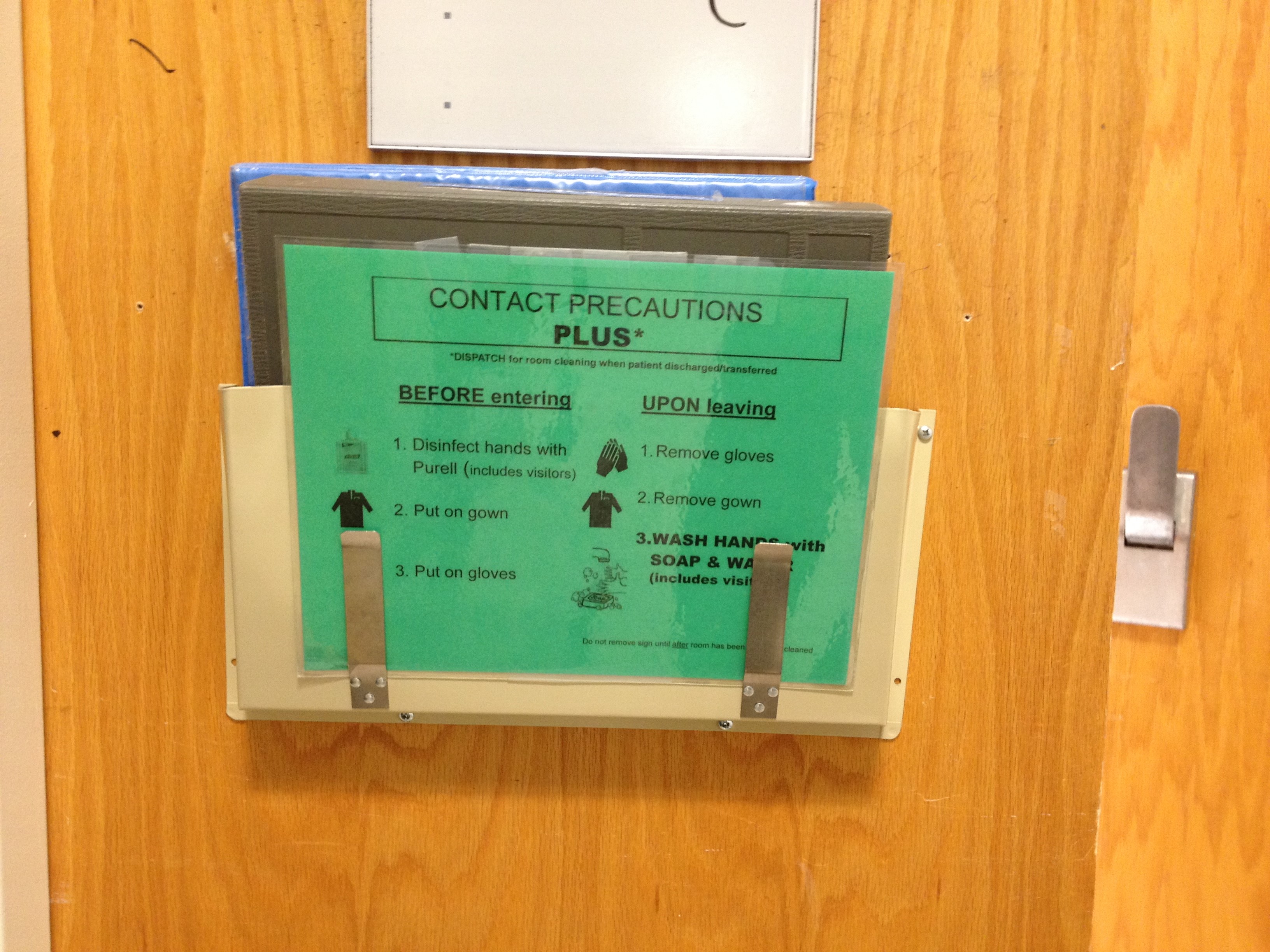 This is a photo is of a sign attached to many patient rooms at the Brigham & Women's Hospital in Boston. Note precaution #3 in the "BEFORE Entering" column and precaution #1 in the "UPON Leaving" column: every interaction potentially involving physical contact between medical staff and a patient requires a fresh set of gloves (not to mention a gown too.) These precautions reflect the Centers for Disease Control and Prevention's recommendations for controlling the spread of Methicillin-resistant Staphylococcus aureus (MRSA), a bacteria that can "cause life-threatening bloodstream infections, pneumonia and surgical site infections." They also generate steady demand for medical gloves.
OK, So What about the Klang Valley?
The Klang Valley is an area in Malaysia that includes Kuala Lumpur and suburbs. It is home to an estimated 2.5 million people and the source of over 60% of the world's medical gloves. Industry estimates put the global medical glove market at 160 billion pieces in 2012 with average annual growth of 8%. Malaysia-based manufacturers account for about 63% of the market, and four companies (Top Glove, Hartalega Holdings, Supermax, and Kossan Rubber) represent over 70% of Malaysia's production. Thailand and Indonesia are Malaysia's main competitors.
Now, Back to Infections and Gloves
US hospitals' intensified focus on reducing the incidence of MRSA and other hospital-acquired infections has contributed to the world's highest per-capita consumption of medical gloves: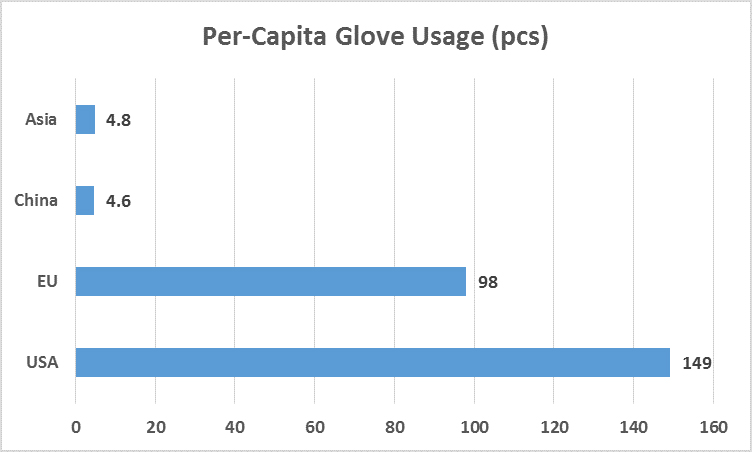 Source: Hartalega Holdings
Needless to say, global adoption of US standards would drive continued growth in demand for many years. One estimate puts China's potential demand at 132 billion pieces (an 80%+ increase in global demand) if per-capita consumption reached the EU's levels.
If We're Talking about Malaysia, Expect to Hear about Rubber……………………
Medical gloves are made with rubber-based products such as latex or nitrile (typically 50% of production costs.) Price matters to buyers, but products must be reliable (resistant to tearing) to be on purchasing lists. Manufacturers generally pass through changes in raw material prices to customers except in times over over-capacity (which usually follow on the heels of a pandemic such as SARS.)
The Glove Manufacturing Process: A Primer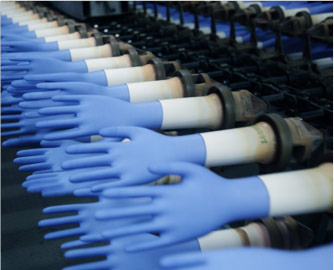 Glove factories consist of long assembly lines of formers (think mannequin arms) that go through a ten-step process that (in summary) involves repeatedly dipping the formers in tanks of different solutions for washing and coagulating; coating them with nitrile- or latex-based compounds; curing them in ovens (210-250 degrees) twice along the way; applying wet powder; stripping them off the formers; and packaging them.
For more details: http://www.gloveuniversity.com/quality/process.php
We have toured a glove factory. They have little or no air conditioning (very noticeable in Malaysia), and some sections are open-air. The process is highly automated, but the stripping and packing functions are still performed manually in most factories. A state-of-the-art production line produces 45,000 pieces/hour.
Nitrile Gloves Gradually Replacing Latex Gloves
Historically, medical gloves were latex-based. Nitrile-based gloves emerged about ten years ago as an alternative in response to latex allergies (thought to occur in 5-10% of medical workers.) Nitrile-based gloves now represent over 46% of Malaysian glove exports, and should continue to gain share. For comparison, nitrile gloves represent over 74% of US consumption compared to the EU's 48%, and China's 25%. Nitrile gloves will not completely replace latex gloves. Nitrile gloves absorb moisture and become soggy, which makes latex gloves superior for the operating room setting.
Manufacturers have added substantial amounts of nitrile capacity in the last three years. In fact, the latest industry buzz is that the lack of capacity expansion by packaging companies could cause capacity constraints for the glove industry.
A Follow-Up on India and the FDA:
We have two brief updates on this high-interest subject from last month:
1. Connecticut's AG has sent a letter to the FDA urging the agency to either force Ranbaxy to launch a generic version of Nexium (impossible to do with an import ban on its key plants) or permit other generic companies to launch competing versions:
http://articles.economictimes.indiatimes.com/2014-09-13/news/53877241_1_ranbaxy-laboratories-nexium-us-drug-regulator
2. The FDA conducted a surprise inspection of Sun Pharmaceuticals' Halol plant, likely in response to three recent recalls of products manufactured there. Industry sources estimate that Halol generates 40% of the company's US revenue:
http://www.business-standard.com/article/companies/us-fda-descends-on-sun-pharma-s-halol-unit-114091100022_1.html