Developing World Healthcare Blog
China's Pharmaceutical Distributors: Waiting for Real Healthcare Reform
China's Pharmaceutical Distributors: Waiting for Real Healthcare Reform
The structural issues that incent widespread bribery in China's healthcare system have been well reported in the media (Google "Glaxo SmithKline China fine"). What receives less attention is the role of the tremendous inefficiencies embedded in China's pharmaceutical distribution system that inflate prices. Unfortunately, solutions to this problem require a wholesale rearrangement of the healthcare system. Not only do these inefficiencies increase costs, they are and will be a drag on the investment returns of pharmaceutical distributors such as Sinopharm Group Holdings.
The Structure of China's Distribution System Inflates Drug Costs
China's pharmaceutical distribution system is highly fragmented. There are an estimated 13,000 distributors (likely shrinking through consolidation) consisting of national and provincial/local operations. China's top three distributors have a combined market share of roughly 20%. In contrast, the top three US distributors have a 95% share. Manufacturers ship product to a national distributor that will sell the product to end customers (hospitals and pharmacies) OR to provincial/local distributors who will then sell the product to pharmacies and hospitals. In some cases a drug will go through several layers of distributors on its way to the end customer. Each layer of distribution adds a markup to the product's price (some of which funds "hongbao").
Further adding to cost pressures is the structure of China's retail pharmacy system. Hospital pharmacies and clinics in China dispense 72% of pharmaceuticals compared to 22% in the US. In fact, patients must purchase their anesthetics for surgery (just picture Michael Jackson or one of his minions standing in line to buy Propofol). Chinese hospitals' financial model come into play here. Hospitals lose money on services and make up the difference with the sales of drugs and devices (40-50% of revenue) and government subsidies (7% of revenue). As a result, hospitals have terrible working capital dynamics. Their credit is good (over 80% are government-controlled), but they tend to pay many of their bills at year-end. The result is that distributors have very long days receivable compared to their US peers:

Among the Chinese group, Sinopharm is the purest distribution company while Shanghai Pharmaceuticals and Jointown also have significant manufacturing operations with different working capital characteristics (shorter receivables and higher inventories).
In essence wholesalers function as banks for hospitals, boosting costs. An A.T. Kearney analysis from 2012 estimated that distributors operate on markups of 8% with financing costs absorbing 50% of this amount.
Health Care Reform is Slow and Taking Some Strange Forms Too
The government is pushing to improve the system through various strategies: privatization; limiting margins on drug sales; and raising prices for medical services. The process is very slow, and subject to resistance. Physicians' salaries remain low, preserving their susceptibility to bribery. Further, provinces and municipalities may implement their own versions of health care reform. In fact, some privatizations have involved pharmaceuticals companies as buyers. At a minimum, the benefits of these transactions remain unclear. In fact, these deals could be counterproductive.
Substantial Revisions to Hospitals' Financial Models Would Benefit Distributors and Society
For an investor, true reform offers tremendous investment potential for the distributors. Each day's reduction in accounts receivable increases free cash flow and lowers borrowing costs. Matching the working capital efficiency of the US companies would dramatically improve the financials of these companies. Until the system changes, the business will be held back by the obligation to finance hospitals' operations. Note that Sinopharm's stock price has lagged the company's growth in revenue and earnings over the past five years: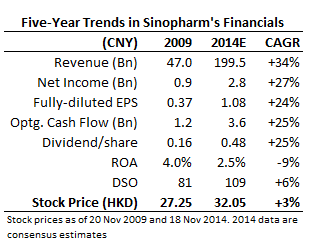 An Update to October's Post, "Developing World Healthcare and the Globalization of Pharmacy":
Raia Drogasil's CEO had some interesting comments on the company's recent earnings call when asked about rumors of global players looking at Brazil:
It's not a rumor, it's real.

Recall that CVS is here and Walgreen/Boots wants to enter.

A global company entering Brazil won't be any better than the asset they buy.
The pharmacy industry is regional, not global: Brazil has unique regulations, including requiring local sourcing of generics. The brands are regional too. The country has lots of bureaucracy.
Brazil is a Western-style market, which is a positive.
Sounds like a pretty good sales pitch to us………………………………