Developing World Healthcare Blog
Middle East: Oil Prices May Rise and Fall, But Demand for Healthcare Will Grow
The healthcare systems of the Middle East (defined as the Gulf Cooperation Council states of Bahrain, Kuwait, Oman, Qatar, Saudi Arabia, and United Arab Emirates) are a contradiction of several global norms. Their per-capita incomes are in the World Bank's "high income" category ($12,745+) yet:
Healthcare spending as a percent of GDP of 2-4% is well below the high income countries' average of 12%.

Life expectancies of 76-79 years lag the high income category's average of 79 years.

Medical infrastructure, as measured by the density of hospital beds and medical professionals, lags global averages.
These contradictions both reflect the region's unique challenges and influence the investment opportunities. The region's demand dynamics are promising over the long term. The price of oil is certainly a macroeconomic risk for the region, and could influence demand.
The GCC Healthcare Landscape: Gaps Exist Despite Great Wealth
The data below provide a snapshot of the region's healthcare systems compared to global norms. The GCC countries are generally small with rapidly-growing populations. Arguably, the region's wealth should lead to the longest life expectancies on the planet. Instead they are just below the high-income average.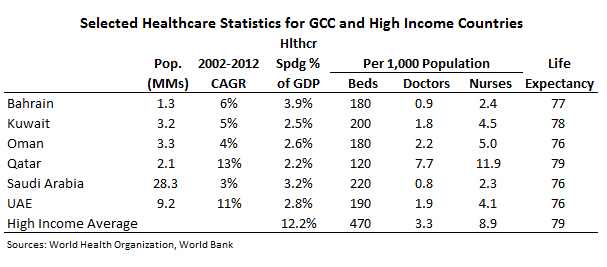 But Great Wealth Can Lead to Poor Lifestyles
The region does suffer from burdens directly tied to its great wealth: "lifestyle" diseases of obesity and diabetes. The chart below shows that their prevalence in the region far exceed global averages: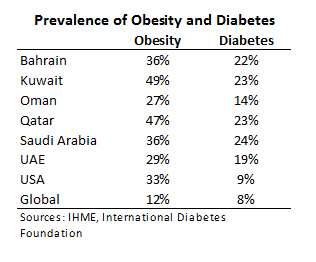 These are chronic conditions that potentially require decades of ongoing treatment, so they place significant demands on healthcare systems.
The Region's Healthcare Systems Face Some Unique Challenges
The biggest challenge is attracting and retaining healthcare professionals. As discussed in NMC Health's 2012 Annual Report, a relatively low percentage of GCC nationals pursue medical training. As a result, these countries must rely on expats who typically have limited commitment to the region. The licensing process for foreign nationals is relatively long. In addition, there are limited opportunities for research-oriented positions (for those who are academically inclined.) Finally, the harsh climate (frequent sandstorms and heat) and cultural differences also serve as deterrents.
The region's robust population growth (3-13% annually) is a source of constant pressure, increasing demand for hospital beds and medical professionals. For instance, the Health Authority of Abu Dhabi (part of the UAE) forecasts that demand for hospital beds will increase from 4,383 in 2014 to 7,556 in 2020 (a compounded annual growth rate of 10%.)
Small populations restrict the ability to offer tertiary care. Four of the six GCC countries have populations of fewer than 3.3 million. As a result, the incidence of rare and/or complex conditions is too low to justify the required staff and infrastructure. Examples of these conditions include pediatric surgery, oncology, and kidney and liver transplants. The governments' response is to send these patients (roughly 9,000 annually) overseas for treatment (see our "Medical Tourism" post from July 2014 for background.) Note that population size alone is not a panacea: both Saudi Arabia (population 28 million) and UAE (population 9 million) send patients abroad too.
The Opportunities and Risks in Middle East Healthcare Investing
The universe of listed GCC healthcare investments is small: eleven companies. The majority trade on local exchanges that restrict foreign investment while a few trade on the London Exchange (the debate over where to list requires its own post.) Hospital companies comprise the majority of the group, reflecting the region's need for additional beds:
Abu Dhabi Listings:
Gulf Medical Projects: manages hospitals and medical centers

Gulf Pharmaceutical Industry – Julphar: drug manufacturing
Kuwait Listings:
Advanced Technology Company: distributes and markets products and supplies to healthcare providers

Yiaco Medical Company: three segments including pharmaceutical marketing, distribution, and retailing; marketing supplies and equipment; and operating medical clinics
Qatar Listings:
Medicare Group: hospitals
Saudi Arabia Listings:
Al Mouwasat Medical: hospitals, pharmacies, specialty centers

Dallah Healthcare Holding: hospitals, clinics, drug distribution

National Medical Care Company: hospitals, drug and medical distribution

Saudi Pharmaceutical Industries & Medical Appliances Corporation: drug and medical appliance manufacturing
London Listings:
Al Noor Hospitals Group: hospitals in Abu Dhabi

NMC Health: hospitals, clinics, and drug distribution in the UAE
The author owns shares of Al Noor Hospitals Group and NMC Health.
related links:
replica handbags uk hublot replica watches michael kors outlet uk cheap michael kors handbags replica rolex replica watches replica Watches uk www.rolexreplica4u.co.uk michael kors outlet uk christian louboutin outlet breitling replica watches rolex submariner replica watches breitling replica watches cheap nike shoes outlet uk nike outlet moncler outlet