Developing World Healthcare Blog
Developing World Drug Researchers Arrive in Kendall Square!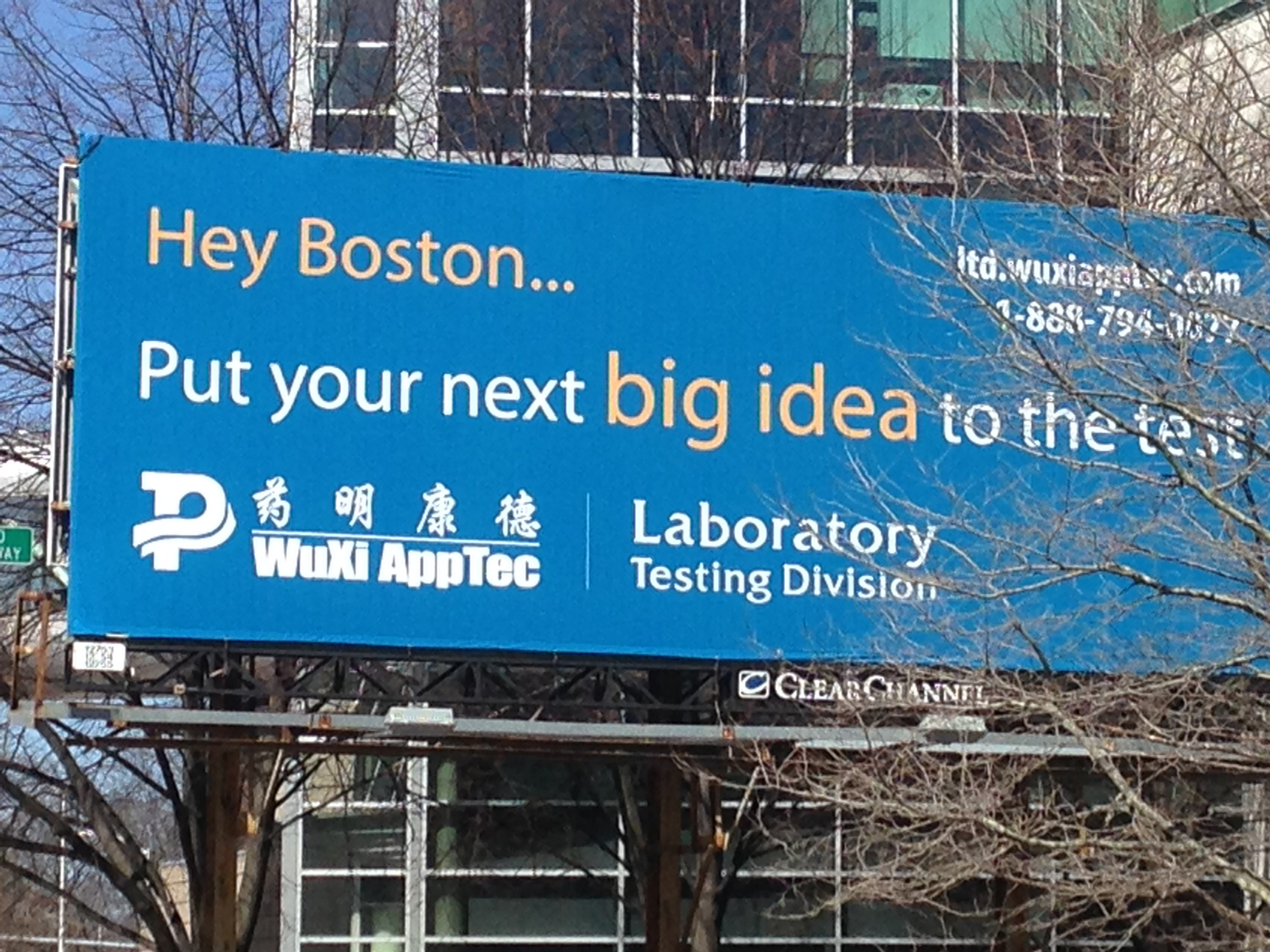 This billboard recently went up in Kendall Square (replacing a similar one from Pfizer) to announce a new arrival to the neighborhood. What is noteworthy is that the advertiser is WuXi AppTec, China's largest contract research organization (CRO.) If you don't know, CROs provide outsourced R&D services to the life sciences industry. The industry's leaders such as Quintiles, Covance, Pharmaceutical Product Development, PAREXEL International, and Charles River Laboratories (which tried to buy WuXi in 2010) have operated globally for years. Even though WuXi has served leading drug companies such as Pfizer, Merck, and Vertex (and has had a small US footprint) for years, its visible "arrival" in Kendall Square signals the rise of developing world CROs in the developed world.
Asia is Capturing an Increasing Share of R&D Spending
Life sciences R&D spending growth in Asia is outpacing the developed world (US, Canada, and Europe). An article from the January 2, 2014, edition of the New England Journal of Medicine notes that during inflation-adjusted biomedical R&D expenditures fell in the US and EU while increasing all across Asia during 2007-2012.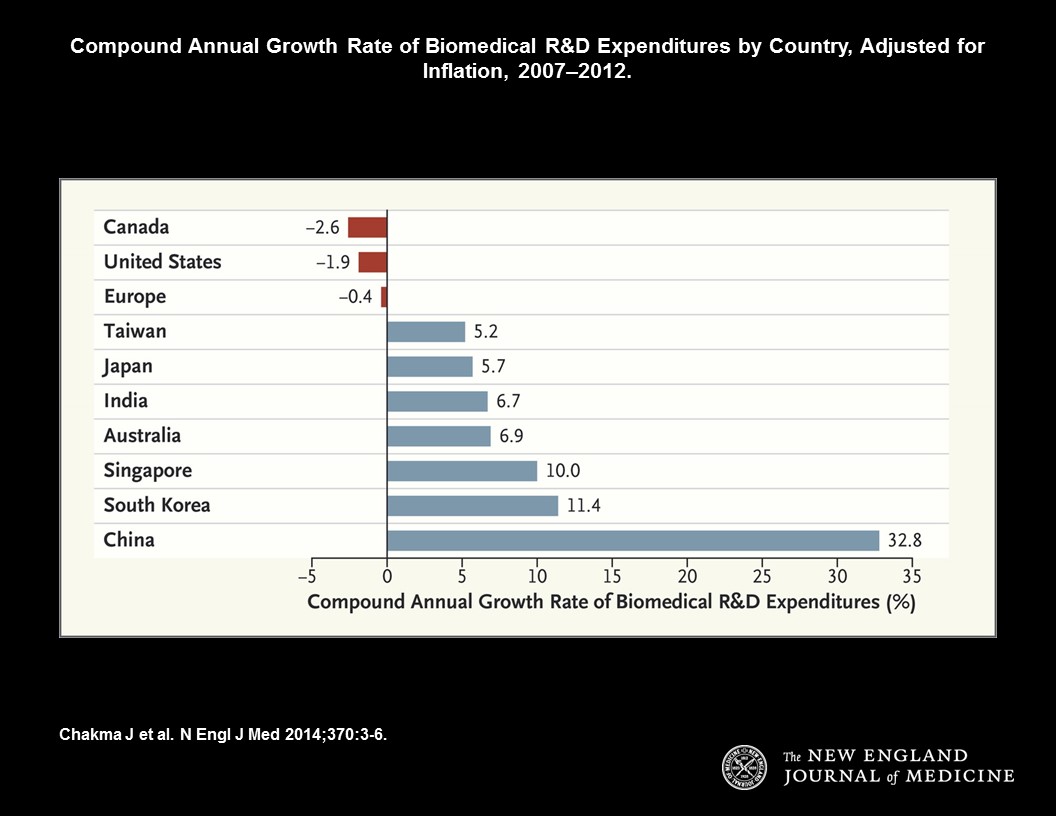 Article link: http://www.nejm.org/doi/full/10.1056/NEJMp1311068
There are several reasons for this shift:
1. Lower costs of running clinical trials in Asia
2. Broader availability of treatment naïve patients
3. Regulatory: For instance, China requires local clinical trials for drug approvals.
The Shift to Asia Has Its Bumps…………………….
While the aforementioned factors should continue to drive a long-term shift in spending, there are significant challenges:
1. Inadequate regulatory infrastructure to approve and monitor research activities
2. Lack of medical professionals with experience conducting clinical research
3. Inadequate ethical standards around the conduct of clinical trials
4. Weaker intellectual property rights in the developing world
India Has Had Some Serious Issues
India has been a focal point of high profile scandals related to the conduct of clinical trials (China has had some notable IP theft cases). One case involved a 15-year clinical trial to test a cervical cancer screening method. The control arm of the trial included 140,000 women who were not screened for cervical cancer despite ethical guidelines requiring it to establish a baseline. The US Office for Human Research Protections determined that the women did not receive enough information to give informed consent. There is one particularly disturbing quote from a Times of India article:
"Trial researchers claimed that having unscreened control groups is ethically justified in India because no-screening is considered "standard care". So all that the unscreened women got were health education information on cervical cancer, the importance of screening and where it was available."
Times of India article link: http://timesofindia.indiatimes.com/india/Row-over-clinical-trial-as-254-Indian-women-die/articleshow/34016785.cms
The conduct of CRO GVK Biosciences has been of concern recently. In January the European Medicines Agency accused GVK of faking clinical trials for 700+ generic drugs. The EMA examined over 1,000 drugs and formulations and determined that clinical work performed by others supported approvals for 300 of them, and suspended sales of the remaining 700. GVK suspended studies at one facility and announced it would redo all the studies conducted at another facility. Despite these initial promises of redress, GVK appealed to the Indian government to assist. The government formed an expert panel that found no manipulation of data (really?), and India's Commerce Secretary has engaged in saber-rattling about taking the matter to the WTO.
Despite the Bumps, There Are Some Quality Companies in this Business
The global CROs (and a few others) mentioned above are publicly-traded, but their exposure to the developing world is quite low. At this juncture, there are a few listed developing world CROs (with more to come):
WuXi PharmaTech (Ticker: WX: US)
The company is China's leading CRO (by far) with almost 9,000 employees. WuXi mainly provides pre-clinical R&D services and contract manufacturing to many leading life sciences companies. A joint venture with PRA International provides clinical trial services. Recent acquisitions add genomics and bioinformatics products and services. Nearly all members of senior management are "sea turtles": they worked for global pharmaceutical companies outside China and/or have degrees from US universities. As noted in the opening of this post, expansion outside of China is part of the strategy.
The company recently listed its subsidiary SynTheAll Pharmaceutical Co. Ltd. On China's New Third Board. SynTheAll provides process chemistry services and manufactures small-molecule advanced intermediates and APIs for use in preclinical and clinical trials and marketed drugs. This market is not yet accessible to foreigners.
Hangzhou Tigermed Consulting Co., Ltd(Ticker: SHE: 300347)
Tigermed is a Shenzhen-listed CRO that listed in 2012. The company employs about 1,000 people in China and Asia, and offers a relatively narrow (but very profitable) range of clinical trial services. In 2014 the company bought 70% of US-based Frontage Labs, which operates in Pennsylvania and Shanghai, for $50MM. The stock has performed well since the IPO and now trades at a P/E multiple of 105x (yes) estimated 2015 EPS.
Private Companies in the Pipeline (Somewhere):
Syngene International
A subsidiary of Indian drug manufacturer Biocon Ltd. Biocon has announced plans to sell 10-15% of Syngene in an IPO in India later this year. The company offers CRO services to the life sciences and agrichemical industries. Notable clients include Bristol-Myers Squibb, which extended a five-year contact with Syngene last year, Baxter, Abbott, Endo, and DuPont Crop Protection. Syngene employs over 2,300 scientists and over 1MM sq ft of lab space.
ShangPharma
One of WuXi's competitors in China went private in 2013. The company has opened offices in Boston, San Francisco, and other cities in Europe and Asia. We expect the company to list again, but the timing and market are unknown.
Pharmaron
Beijing-based Pharmaron employs about 2,000 people and has funding from several US venture capital funds. The company has not had any major announcements for over a year, so exit plans are unknown.
The author owns shares of WuXi PharmaTech.