Developing World Healthcare Blog
Thailand Hospitals: Hope That the Junta Will Leave Them Be
Thailand has several traits that make it an interesting market for healthcare investments. First, healthcare spending is very low at roughly 3.9% of GDP (WHO, 2010). Second, there is universal health insurance coverage. Third, the government has been supportive of private healthcare, including marketing Bangkok as a regional medical hub. The downside at the moment is political. Thailand has had 12 coups since 1932, and the current junta's (which took over last year) inability to transfer power back to civilians is weighing on the economy.
Roughly 97% of Thailand's population has some form of public health insurance – the country's tax-funded Universal Health Coverage (UC) program covers 75% of the population; the jointly-funded (employee/employer/government) Social Security (SS) program covers 15%, and the Civil Servants Medical Benefit Scheme (CSMBS) covers 8%. The remaining 2% either have private health insurance or pay cash.
The insurance benefit provided by each scheme varies dramatically. The UC's and SS's annual benefits are Bt2,400-2,500 while the CSMBS benefit is Bt12,589. The disparities in coverage generate occasional controversy, leading for calls to merge the plans or equalize benefits, but there is significant opposition to substantial changes.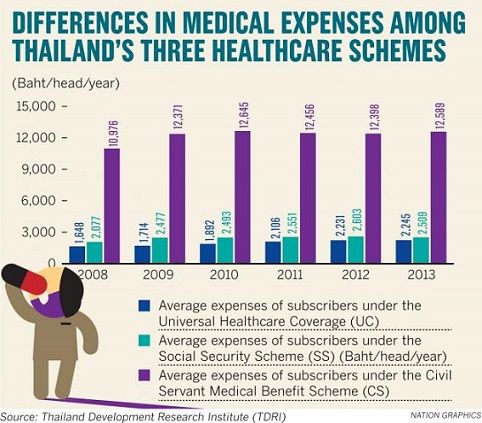 Private Hospital Industry Background
Thailand has a public-private healthcare system. There are just over 300 private hospitals operating about 31,000 beds (21% of Thailand's 147,000 beds.) Private hospitals range in size from 10 beds to up to 554 beds, and offer differing ranges of services including primary care, secondary care, and tertiary care. Public hospitals generally operate at full capacity; therefore, people with means will choose to go to private hospitals that provide comparable services. Waiting times at public hospitals (and other providers) are much longer and at least one study has documented that public hospital staff are less polite.
Public and private medical centers have comparable standards of medical care. Listed companies own the majority of private hospital beds capacity. Private hospital operators are the primary healthcare sector listed on the Stock Exchange of Thailand.
Private Hospitals Focus on Upper-Income Patients
Private hospitals have virtually no interest in the UC program, and limited interest in the SS program because of their tight reimbursement mechanisms (capitation). CSMBS members have stuck with public hospitals despite receiving the option of using private hospitals in 2011.
Private hospitals serving SS patients typically do so by operating separate units that lack the amenities of units serving privately-insured or cash-paying patients, and offering the option of "upgrading" to higher-income SS and UC patients who can afford to pay out-of-pocket for higher-end amenities (semi-private or private rooms, etc.)
Bangkok is the Key Market for Leading Public Hospital Companies
Roughly 34% of Thailand's population lives in urban areas. As a result, the listed private hospital industry is concentrated in Bangkok where monthly per-capita income exceeds Bt 27,000 -- double the national average of Bt 11,000. In addition, Bangkok has a large expatriate population with private insurance. Insurance coverage in Bangkok is more generous than the national average: nearly 12% of the population has either private (11%) or employer welfare (1%), about triple the national average of roughly 4%. The private sector exposure does bring an element of economic sensitivity to the business.
Bangkok's Top Private Hospitals Attract International Patients
The government of Thailand has actively promoted the country as the "Medical Hub of Asia" for foreign patients, offering hospitals with world class care (36 have Joint Commission International accreditation) at a discount to other countries. The Middle East, which has inadequate infrastructure despite its great wealth, is a significant source of patients for several leading hospitals such as Bangkok General and Bumrungrad. In addition, neighboring Myanmar has become a growing source of patients as it re-emerges from decades of economic isolation.
Numerous Private Hospital Companies are Listed on the SET
There are fifteen listed private hospital companies (and one pending IPO) on the Stock Exchange of Thailand. Their financial characteristics are quite appealing. Revenue and EPS growth have grown in excess of 10% annually over many years. Average EBITDA margins have been steady at 20% while ROE and ROA average 15.0% and 9.8%, respectively.
There is a substantial amount of cross-ownership among several of the leading listed companies. The industry's most aggressive consolidator, Bangkok Dusit Medical Services (BDMS), owns stakes in Bumrungrad (24%), Samitivej (96%), Ramkhamhaeng (38%), Krungdhon (20%), and Aikchol (0.2%). This securities portfolio (depending on the day) represents about 27% of BDMS' market capitalization.
Other (less significant) cross-ownerships:
Chiang Mai Ram and affiliates' 17% stake in Ramkhamhaeng
Ramkhamhaeng's 7% stake in Vibhavadi Medical
Vibhavadi Medical's 83% stake in Chiang Mai Ram and 10% stake in Sikarin
All of the listed companies have a dominant or controlling group of shareholders, frequently a family or founding investment group, that run the business. As a result, M&A activity usually has been on a friendly basis.

The author owns shares of Bangkok Chain Hospital.