Developing World Healthcare Blog
Window-Shopping the IPO Market
We have spent a fair amount of time in the last few months looking at IPOs in various markets: India, Hong Kong, London (non-UK companies), and New York (ADRs.) We will not discuss specific companies or offerings to avoid the appearance of making recommendations. Instead we will discuss some trends and the benefits of going through the exercise of analyzing an offering (even if we're not participating.)
Listing Trends in Selected Markets
India:
Generic drug manufacturers that operate globally comprise the vast majority of the healthcare sector's market cap. In contrast, the majority of companies that have filed to list are healthcare services companies primarily serving the domestic market. The market caps are much smaller, but the listing of these companies at least broadens the range of available options. Unfortunately, foreign investment restrictions are a significant hurdle.
Hong Kong:
Companies across a broad range of sectors have filed to list: Traditional Chinese Medicine, healthcare services niches, Western medicines, and medical devices. China's healthcare system suffers from inadequate infrastructure and personnel, not to mention perverse incentives. The continued diversification of offerings allows an investor to "bob and weave" through the country's ongoing healthcare reform. Hong Kong is an open market for US investors, and it's more rational than the markets in Shanghai and Shenzhen.
London:
London has a small hodgepodge of companies domiciled in the Middle East, Russia, Turkey, and elsewhere. Companies choose London over their domestic exchanges because of superior liquidity, and fewer restrictions on foreign ownership. Listings this year include healthcare services companies based in Egypt and Georgia (country, not state).
New York:
As we have written before, most of the activity here has been privatizations of Chinese ADRs. Recently, a few Chinese companies have filed to list. One advantage of New York over Hong Kong is that Hong Kong requires at least HK$50 million of profits in the three years prior to the IPO. In contrast, development stage companies can list here.
Why the Window-Shopping?
Window-shopping an IPO provides a good education. The listing process involves a thorough discussion of the company and sector. Accountants, bankers, analysts, and lawyers scrub the business pretty hard in advance of the offering. The resulting disclosure can be very informative, but managements' preference to minimize details can and does lead to some important omissions. Prospectuses are by their nature very long (some are thicker than telephone books), but some of the content is repetitive. At a minimum, the document can serve as a good reference.
In contrast to the US, many non-US markets allow the underwriters' research departments to publish and distribute "pre-deal" reports to institutional investors that discuss the company, industry, and earnings projections. These reports vary in their quality, but at least a potential investor can use the report to develop questions and pick apart the forecasts. In addition, the prospectus usually includes a report on the sector from a consulting firm (frequently Frost & Sullivan) that discusses the industry, competitors, markets shares, and other relevant topics. This report includes forecasts of industry growth, which require a grain of salt. I once asked about underlying assumptions (unit growth, price growth) and received a blank stare, so I stopped asking.
One other major contrast with the US is that the underwriters frequently erect up booths for retail investors to pick up a prospectus. This booth was at Raffles Place in Singapore: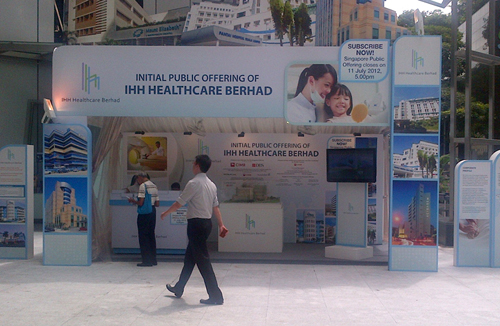 Even though we do not receive allocations for IPOs (and would seriously question any offered to us), the exercise is valuable for several reasons:
§ Competitive intelligence – We may own the shares of a competing company. Understanding the details of the competition's business always helps. Patterns emerge after looking at several offerings, which helps separate the quality companies from the junk.
§ Window-shopping now, but real shopping later -- Circumstances and markets change constantly. Some stocks drop below their offering prices when markets correct. The market may overreact to news (also a chance to buy). The company may acquire a stock that we hold (Double Happiness.)
§ Valuation – Peer group valuations play a significant role in IPO pricing, and the data provide context. In addition, the listing company may have acquired competitors: useful for thinking about private market values.
Finally, annual reports aren't as detailed as an offering prospectus. The value of the prospectus declines with time, but can be useful for several years post-deal.
One closing thought below………………………..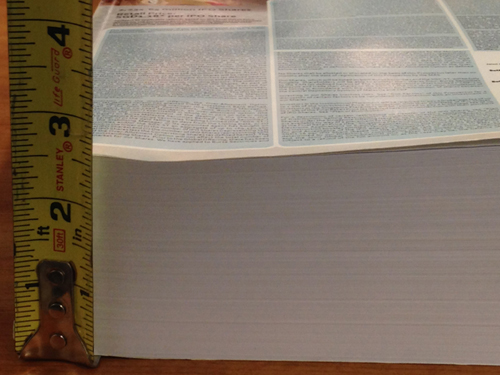 You don't have to read all of it!