Developing World Healthcare Blog
Opportunities in Developing World Healthcare
The following post was published recently on the Edge, The HEDGE CONNECTION Blog:
Opportunities in Developing World Healthcare
By Kemp Dolliver, CFA
Chief Investment Officer
Cherrystone Hill Capital Management LLC
Healthcare is rising in importance within the developing world (defined as emerging and frontier markets) as these countries progress economically. A combination of aging populations, rising per-capita incomes, and increased investment in the sector are behind this change. Further, substantial investments in life sciences research in these countries over the past decade have started to yield products that are globally competitive. In this context we see four major trends creating a broad opportunity set for investing across selected healthcare subsectors in the developing world:
growth in domestic demand

emergence of global exporters

rising innovation

expanding investment options
Like the developed world, healthcare spending in these countries is relatively stable throughout the economic cycle. Investments in healthcare in the developing world offer a unique combination of healthcare's stability with the developing world's growth.
Growth in Domestic Demand
Healthcare spending as a percentage of GDP averages 10% globally, but with very wide disparities by per-capita income level: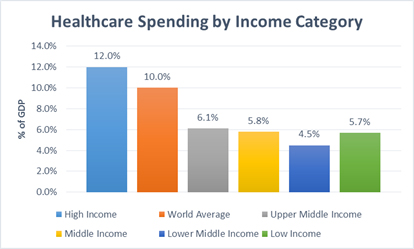 Not surprisingly, these disparities are evident across a wide spectrum of countries with spending in many "developing countries" at less than half of the global average. As per-capita incomes rise in these countries, the percentage of GDP allocated to healthcare will likely increase. As a result, demand for pharmaceuticals, devices, and services should grow relatively faster in the developing world compared to the developed world.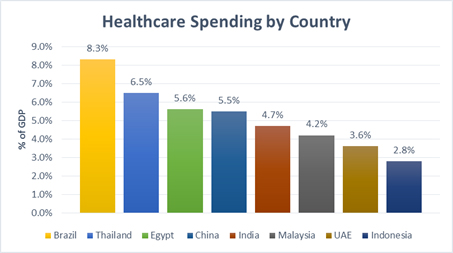 One important difference between these countries and the U.S. is the structure of their healthcare systems. Practically all of these countries have public/private systems where the taxpayer-funded public system is the default insurer and/or provider of care. The private system serves the upper 15-20% of the population with patients carrying private insurance or paying out-of-pocket. Many private healthcare providers (mainly hospitals and physician clinics) are listed companies.
One commonality among many of these countries is shortages of medical infrastructure (size of healthcare workforce per-capita; healthcare facilities per-capita; etc.). The data below on hospital bed density illustrate how the disparities in healthcare spending translate into tangible deficiencies that impact people on a daily basis (waiting times and limited availability of specialized services are examples.) In fact, many private providers have built significant businesses serving international patients from countries with inadequate healthcare resources.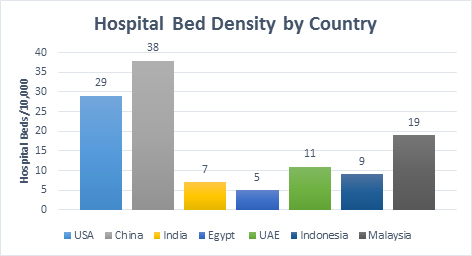 The shortages, whether in quantity or (in China's case) quality, of bed capacity have led some countries to delegate the job of adding healthcare infrastructure to the private sector. These countries have adopted policies that encourage the development of new private hospitals to serve the upper-income segment of the population. This strategy allows governments to focus on providing services to lower-income groups at a relatively lower cost while avoiding the tax increases necessary to provide funding.
Emergence of Global Exporters
The developing world is home to several industrial clusters that have established leading positions globally in certain healthcare segments. Some of the most prominent examples include:
India -- Supplies over 40% of over-the-counter and generic drugs consumed in the US.

Malaysia -- The world's leading producer of medical gloves (nearly 60% share) and condoms (over 30% share).
This trend reflects these countries' comparative advantages. India has a substantial amount of engineering and chemistry talent and a low-cost operating environment. Malaysia is the world's #3 grower of rubber, and is in close proximity to #2 Indonesia, which produces 3x's Malaysia's output.
Rising Innovation
Life sciences R&D spending growth in emerging Asia is outpacing the developed world (US, Canada, and Europe). An article from the January 2, 2014, edition of the New England Journal of Medicine notes that inflation-adjusted biomedical R&D expenditures fell in the US and EU while increasing all across Asia during 2007-2012.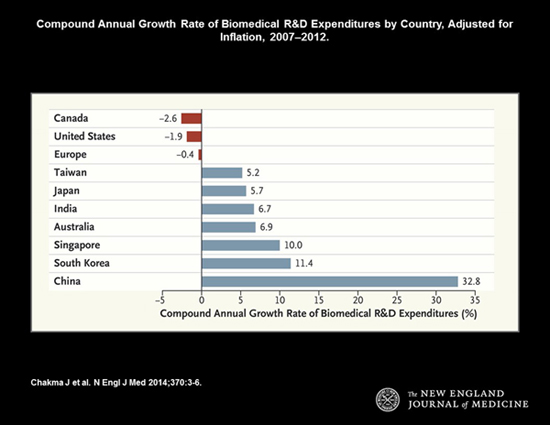 There are several reasons for this shift. First, the costs of running clinical trials are lower in Asia (particularly China) than in the developed world. Second, there is wider availability of treatment naïve patients, which leads to faster enrollment in clinical trials. Third, some countries (again, particularly China) require local clinical trials for drug approvals. We are just starting to see the impact of this shift:
South Korean companies are playing a significant role in the biosimilars sector by developing and manufacturing products for leading multinational companies such as Biogen, Merck, and Pfizer.

Taiwan is home to a substantial biotechnology cluster that has started to develop innovative products.

Two Chinese companies have developed the world's first vaccines for hand, foot, and mouth disease (HFMD), a disease that afflicts millions of children in Asia (mainly China) annually.

The New England Journal of Medicine

published one company's Phase 3 clinical trial data in February 2014, a rarity for a Chinese company.
We expect the life sciences industries in these countries to advance because of the substantial investments and long time horizons required to develop these products. In addition, governments view the development of life sciences industries as a way to boost per-capita incomes.
Expanding Investment Options
This theme is apparent in two forms. The first form is declining barriers to foreign investment. Recent examples include Saudi Arabia's opening of its stock market to foreign institutional investors, and the creation of the Shanghai-Hong Kong Stock Connect. More subtle examples include reductions in trading costs, and increased ease of access to information (financials translated into English). The second form is the listing of companies and industries unique to the developing world. Examples here include Traditional Chinese Medicine (TCM), medical gloves, and cord blood banking. Many of these businesses have consistent growth rates, above-average returns on investment, and very strong balance sheets.
Sizing Up the Opportunities by Country
The chart below shows how the availability of these investment opportunities differs by country. Domestic demand is the most prevalent theme by far. The variety of opportunities by industry and country offers a continuously evolving opportunity set. This list is not comprehensive, but is representative of many of the leading publicly-traded healthcare companies in the developing world. There are very limited opportunities to invest in healthcare directly in frontier or less-developed markets, but companies based in neighboring countries such as Thailand are benefiting from the growth of frontier countries such as Myanmar, Laos, and Cambodia.